Shopping Cart
Your Cart is Empty
There was an error with PayPal
Click here to try again
Thank you for your business!
You should be receiving an order confirmation from Paypal shortly.
Exit Shopping Cart


Notre association est très engagé dans le developpement du parkour au niveau local mais aussi au niveau international. 

Nous voulons soutenir les personnes qui ont la même vision et mision que nous et c'est pour cela que nous avons crée cet espace de publication. 

Les informations que vous trouverez ici seront validés par notre groupe de collaborateurs.

Toutes les informations décrites ici sont la propriété intellectuelle de ses auteurs et Xtreme Team Parkour ASBL et seront présentées aux autorités juridiquement compétentes. La reproduction totale ou partielle du contenu étant expressément interdite ainsi que l'utilisation sans le consentement de l'auteur, ceci peut être puni civilement et juridiquement.
______________________________________________________________________


Our association is very committed to the development of parkour locally but also internationally.
We want to support people who have the same vision and mission as us and that is why we have created this publication space.
The information you find here will be validated by our group of collaborators.

All the information described here is the intellectual property of its authors and Xtreme Team Parkour ASBL and will be presented to the legally competent authorities. The total or partial reproduction of the content being expressly prohibited as well as the use without the consent of the author, this can be punished civilly and legally.

______________________________________________________________________



Nuestra asociación está muy comprometida con el desarrollo del parkour localmente pero también internacionalmente.
Queremos apoyar a las personas que tienen la misma visión y misión que nosotros y es por eso que hemos creado este espacio de publicación.
La información que encuentre aquí será validada por nuestro grupo de colaboradores.

Toda la información aquí descrita es propiedad intelectual de sus autores y Xtreme Team Parkour ASBL y se presentará a las autoridades legalmente competentes. La reproducción total o parcial del contenido está expresamente prohibida, así como el uso sin el consentimiento del autor, esto puede ser castigado civil y legalmente.

| | |
| --- | --- |
| Posted on June 12, 2020 at 3:20 AM | |


MIEDO: "Fenómeno psicológico de marcado carácter afectivo, que acompaña a la conciencia de un peligro real o imaginario, de una amenaza. "

El parkour, debido a sus movimientos acrobaticos, puede hacer que los no practicantes se sientan inseguros. A veces clasificado como un deporte extremo, el parkour no parece más pelig...
Read Full Post »
| | |
| --- | --- |
| Posted on June 12, 2020 at 3:15 AM | |


FEAR: "Psychological phenomenon of marked affective character, which accompanies the awareness of a real or imagined danger, of a threat. "

Parkour, because of its aerial movements, can cause non-practitioners to feel insecure. Sometimes classified as an extreme sport, parkour does not seem any more dangerous than another sport if it is p...
Read Full Post »
| | |
| --- | --- |
| Posted on June 12, 2020 at 3:00 AM | |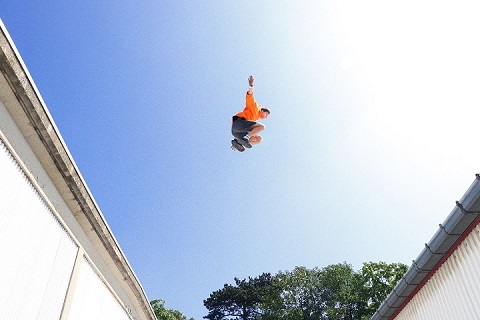 PEUR : « Phénomène psychologique à caractère affectif marqué, qui accompagne la prise de conscience d'un danger réel ou imaginé, d'une menace. »

Le parkour, à cause de ses mouvements aériens peut provoquer chez les non-pratiquants un sentiment d'insé...
Read Full Post »
/